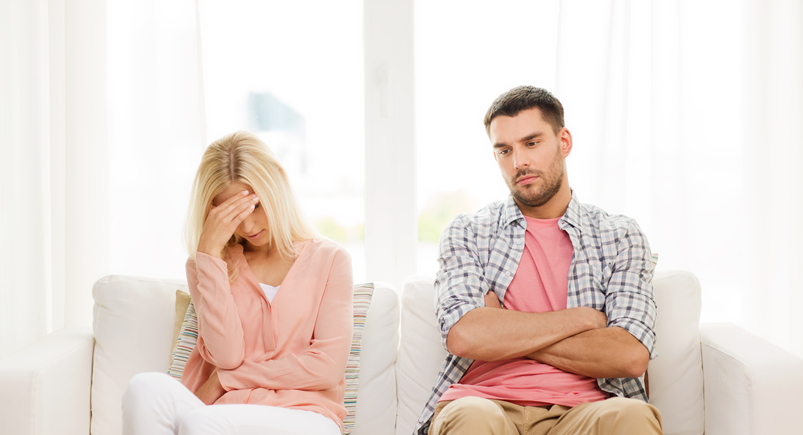 Navigating the Storm: When Couples
Experience a Difficult Season
Let me start by saying what this article is not.  This is not an article on how to fight fairly and constructively, or about how to resolve an issue.  Instead, this article focuses on the experience of going through a particularly difficult phase in a relationship and what strategies can be used to ease the challenges and help get to the other side of the difficulties.   I refer to a "difficult season" as a period of time when you and your partner are working out differences, or your interactions, which used to be so easy and effortless, now seem contentious and awkward.  After we have been through a few of these seasons, we can begin to see patterns of interactions that help and those that don't.  Often people go on to feel the miraculous: feeling love for one another again.  Most couples have been told or experienced one or more of the common difficult seasons—the first few years of marriage, when your children are little and you are sleep deprived, remodeling your home, or going through the loss of a job.
There are those couples who say they never fight or they disagree so politely and mildly, that I think:  why aren't you writing this article?  In both my work with couples and my own marriage of many years, I know the weight of a difficult season.  In John Gottman's book The Relationship Cure, he says that it takes five good interactions to counterbalance one negative interaction.  In other words, a negative interaction weighs more than a positive one.
It makes sense that conflict makes couples anxious.  They wonder it they can stay together through the turbulence, whether they can make the necessary changes, or whether they can bear the emotional upheaval.  There are ways to go through conflict and still stay engaged but it often takes work to develop these skills.  Here are some guidelines that can help.
Make your intentions clear. Telling your partner you intend to work it out with them can be very helpful.  Your partner will then be less anxious (and we all function better when we are less anxious).   Further, when two people can't seem to agree anything, it can help to share how hard it is to go through the upsetting process.  For example: "Wow!  I really hate it when we are at odds with each other.  This is hard."
Keep the disagreements contained. Choose with intentionality when to discuss the problem.   Not only the time and place, but also the circumstances.  I do not suggest late at night just before bedtime.  Choose a quiet place without interruptions.  Put your phones away.   And just as I hope you don't drink and drive, don't drink and discuss.  Decide on the timeframe, keep it there and attempt to have any reparative experience immediately afterward: take a walk, watch a favorite movie or listen to music together.  Don't let the conflict leak out throughout the day or week; keep it to a specified time and place.
Bring your best selves to the conflict. Agree to some guidelines.  The intensity may heat up as you talk, but do not yell.  No name-calling.  Take turns speaking and let your partner talk without interruption.  Don't use sarcasm or criticism (a complaint is different than a criticism).  Attempt to tolerate hearing your partner say things without getting defensive.  Don't assume bad motives for your partner's statements or actions.  I know this is easier said than done, but these are absolutely important to work on.
Make sure you have fun. Do try to schedule activities that you both enjoy.  Often it takes a period of time to get through issues and if its only conflict you're encountering, it is easy to forget what was ever good between you.
If it seems like the same argument over and over again—well, that's because it is. The content of the disagreement will change, but the process is often the same.  For example, your partner doesn't feel you listen to them, so they get more insistent or strident, and you start to feel controlled and pull away and perhaps make it clear you aren't listening, and so it goes.  You think you have to work out the content of the argument when actually it is the process (and our childhood issues) that needs addressing.  I often say to clients it isn't the 100 arguments you have; it's the same argument 100 times.  Pay attention to the process.
Learn something. Read books, listen to podcasts, or go to therapy when you're struck.  We have so many good resources with more research and models of how couples can grow and develop.  Don't allow the relationship to reach a critical point before taking action.
Be kind. Think kindly.  Act kindly.  Stay kind.  If you can accomplish this, I might never see you and your partner in my office.  You can be the next person to write an article about what it takes to thrive, not just survive as a couple.  I can't wait to see what you'll say.
Dr. Susan Harper Slate is a Clinical Psychologist in practice in Santa Monica.  She is a member of the Independent Psychotherapy Network.  Dr. Slate can  be reached at (310) 582-0010 or shslate@aol.com
Copyright 2018 by Susan Harper Slate, Ph.D.