Hello! We are the
Independent Psychotherapy Network.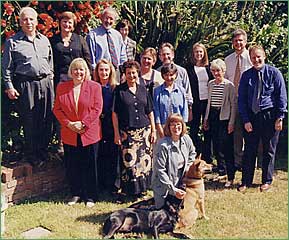 Welcome to our psychological referral and information website. We are a group of Los Angeles area psychotherapists dedicated to high quality and ethical practice. Our website is designed to help you find the right psychotherapist from our group for your needs.
Finding the right psychotherapist is a very personal matter. The Independent Psychotherapy Network can help you make that choice.
Group Statement
The members of the Independent Psychotherapy Network work together as a group to help you find the psychotherapist most suited to your needs. We are all in independent practice. Some therapists will not charge you for the initial consultation if you choose not to continue with that therapist. We prefer to work outside of Managed Care for the purpose of providing you with greater confidentiality and control over your therapy.
IPN meets monthly to educate and support our members for the purpose of keeping our practices at the highest possible level of quality. We periodically evaluate our work.
We strive to be warm, accepting, and non-judgmental. We believe in being active, flexible, and engaged with each client. We utilize a variety of skills to help you focus on your present as well as past and future concerns. Our job is to help you understand the true meaning of what you are saying rather than diagnosing your problems or imposing solutions. Our primary goal is to create a safe environment encouraging positive change.
We work to be emotionally healthy ourselves. We try to be reasonable in our fees. Our office policies are written clearly, detailing practices representing responsible ethics and values. We never ask you to engage with us outside of the patient/therapist professional relationship. We believe such practices compromise psychotherapy. We are available by phone for emergencies.
A large variety of specialties is available. We work with children, adolescents, adults, elderly, couples, and families. Some of our members run groups. Meet the IPN therapists to learn more.You may contact IPN directly by e-mail or telephone any individual therapist.
home | article of the month | featured therapist | news & events
psych bytes | book review | about our group
therapist profiles | locate a therapist
Copyright independent Psychotherapy Network ©2008-2014